Mechanical Ride Rental

Looking for a thrilling and unforgettable experience for your next event? Look no further than Saga Events' Mechanical Ride Rentals! Our selection of mechanical rides is sure to add excitement and energy to any occasion, whether it's a birthday party, corporate event, or festival.

From classic carnival rides like the Ferris wheel and carousel to heart-pumping attractions like the mechanical bull and zip line, we offer a wide variety of options to suit any taste and age group. Our rides are meticulously maintained and operated by our experienced staff, ensuring maximum safety and fun for all.

At Saga Events, we pride ourselves on providing top-notch customer service and making the rental process as easy and stress-free as possible. We offer flexible rental periods and competitive pricing to fit any budget. So why wait? Contact us today to reserve your mechanical ride rental and start creating memories that will last a lifetime!
Ballistic Swing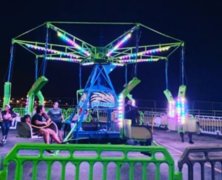 Pirates Revenge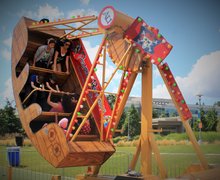 Rock Wall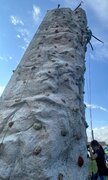 Tubs of Fun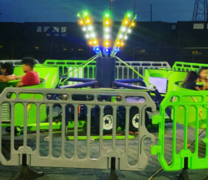 Ultimate Bungee (2) Trampoline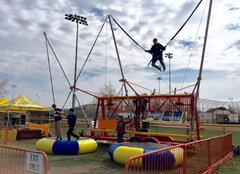 Ultimate Bungee (4) Trampoline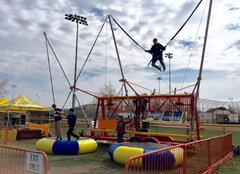 Wizzer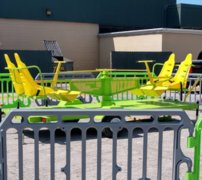 Wrecking Ball Ride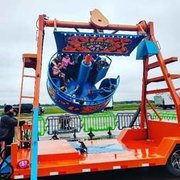 LED Mini Golf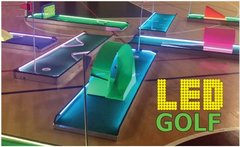 4 Person Toxic Meltdown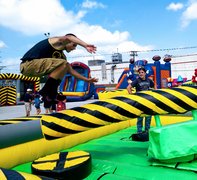 8 Person Toxic Meltdown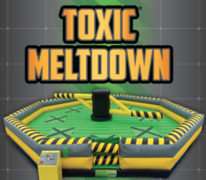 Mechanical Bull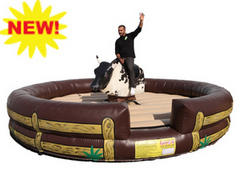 The #1 Mechanical Bull Chicago IL Has to Offer
Choose the mechanical bull Chicago IL party-goers, customers, and attendees can't get enough of from Saga Events! Take your upcoming team-building weekend to the next level of fun with our exciting and entertaining rides. Add some friendly competition to a community festival and see how long each participant can ride the bull. Whatever your specific party planning needs are, our friendly and experienced team is here to help make the event equipment rental process as simple as possible so you can focus on catering to your guests.

As a locally owned and operated business, we're happy to provide our surrounding communities with engaging and high-quality rentals for all occasions. We offer delivery across Chicago, Illinois, and the neighboring cities in Travis, Hays, and Cook counties. We're thrilled to continue to create lasting relationships with fellow businesses, organizations, clubs, school administrators, and individuals seeking the #1 mechanical bull Chicago IL has to offer to take their party's entertainment up a notch with an adrenaline rush courtesy of our top-tier rides.

Our convenient online booking tool makes scheduling rentals an easy and hassle-free experience so that you can spend more time focusing on your guests and other party-planning essentials. Browse our website, add the top mechanical bull Chicago IL kids and adults enjoy to your cart, and check out using our secure system. Our website allows you to view available rentals and schedule a delivery while on the go or from the comfort of your own home. If you have any questions or need support from our experienced and helpful staff, give us a call at (312) 868-0608.

Book the Mechanical Bull Rental Chicago IL Loves Seeing At Events
Add the mechanical bull rental Chicago IL guests of all ages get a kick out of, provided by the dependable and fun-loving crew at Saga Events. Whether you're adding an enticing activity to your bar or restaurant's schedule of events or want to include a little friendly competition at your next company team-building weekend, our mechanical rides are a safe and unique experience for participants. See how long participants can withstand the bucking bronco, and be sure to have your smartphones ready to catch it all on camera!

In the past, we've delivered our mechanical rides for birthday parties, happy hours, business grand openings, family reunions, local festivals, vendor fairs, carnivals, school field days, high school class reunions, neighborhood block parties, fundraising events, college campus events, church celebrations, birthdays, bachelor or bachelorette parties, and other special occasions.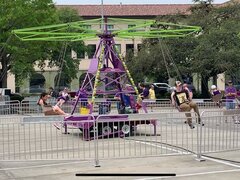 We're big believers that you don't need an excuse to have a great time! Book the mechanical bull rental Chicago IL can't get enough of and be prepared to create lasting memories while laughing the night away. Take a look at our mechanical bull options below and book online today!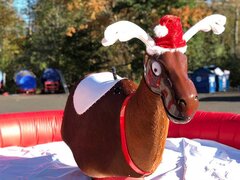 Fun Options for Mechanical Bull Riding in Chicago IL
We have no shortage of exhilarating options for mechanical bull riding in Chicago IL! Each of our bull rentals features an inflatable ring for a safe and easy landing. View our two selections below and book your rental to add thrilling activity and entertainment to your upcoming happy hour, work event, grand opening, field day, festival, or celebration.

Mechanical Bull: Our larger bull option measures 24' wide by 24' long and 10' high and rents for $1,200 for up to eight hours of rental time. This unit requires one adult attendant and is best suited for ages 10 and up. This rental requires two 110v household outlets to operate. This is a fantastic choice for large-scale events with a wide range of ages in attendance, including community festivals, rodeos, and carnivals.

American Mechanical Bull: Our smaller bull option measures 20' wide by 20' long and 5' high, and is safe for ages six and up with adult supervision. This unit requires two standard 110 household plugs and begins at $1,200 for up to eight hours of rental time.

If you're on the hunt for an Chicago IL bar with mechanical bull entertainment, bring the fun to your own backyard with our mechanical rides! We also carry trackless trains, rock climbing wall stations, bungee trampolines, and swing rides for all of your large-scale event planning needs!

Why You Should Choose the Mechanical Bull Riding Chicago IL Can't Get Enough Of
We've become the go-to party rental choice by providing options for mechanical bull riding Chicago IL party planners and residents rely on to excite, engage, and entertain, no matter the cause for celebration. We're the #1 provider of mechanical rides, inflatables, interactive games, and other rental services because we deliver on our promises and care about the outcome of our customers' events. Take the stress out of party planning by browsing our expansive inventory and using our state-of-the-art online scheduling tool. When you work with our team of party professionals, you can trust that all of the important details are being considered, ensuring your upcoming event goes off without a hitch.

We carry the widest variety of equipment to support a variety of small, medium, or large-scale celebrations. Whether you're wondering where to ride a mechanical bull in Chicago IL or are seeking cost-effective and convenient entertainment for a local music festival, we're certain our equipment and services will help you put on a show-stopping event that won't soon be forgotten!

We work directly with industry-leading commercial manufacturers to provide high-quality, durable equipment and services that are just as safe as they are engaging. We sanitize, inspect, and deep clean our inventory before and after use. Our dependable and courteous drivers will keep you informed about the delivery's progress and ensure that the equipment is unloaded and assembled at the time and location of your choosing. Call our staff at (312) 868-0608 for more details on our options for mechanical bull riding Chicago IL kids AND adults enjoy if you have any questions about our best practices or how we keep our equipment in top condition.

How to Rent a Mechanical Bull in Chicago IL
When you're ready to rent a mechanical bull in Chicago IL, Saga Events makes the process as streamlined and stress-free as possible so that you can get back to planning! Let us take care of your event's entertainment, seating, and staffing so you can concentrate on creating lasting memories with your guests.

To complete your online reservation, follow these instructions:
From the "Home" page, click the "All Rentals" tab in the menu bar and view our category options. Select the category you'd like to browse available options in first.
View available products and prices within the specific category and click the yellow "Book Now" button to begin the rental process.
Review the price point, description, and any additional photos before clicking the "Add to Cart" button.
Click the "Choose Date" button and select the date of your event then the party start and end times from the drop-down menu.
Review your cart, including the sub-total with tax, then continue shopping or click the "Checkout" button to continue scheduling your reservation.
When checking out, input contact and billing information in the first column, event location information in the second column (including any essential information you'd like our team to know beforehand), and read the damage waiver and refund information in the third column, then click "Continue."
Submit payment details for the required deposit using any major credit card to complete the reservation.

Once the payment has been made, our staff will send you a confirmation email and a digital copy of the receipt. Before the date of your event, a member of our staff will get in touch with you to confirm a delivery drop-off window. Call us at (312) 868-0608 if you have any questions about how to rent a mechanical bull in Chicago IL, or if you'd prefer to speak with one of our party specialists directly about your needs.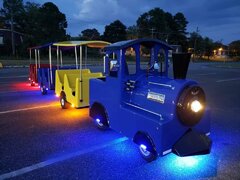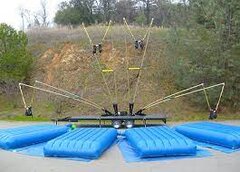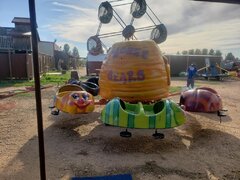 Delivering the Mechanical Bull Rental Near Me Chicago IL Enjoys Most
We're proud to deliver the mechanical bull rental near me Chicago IL businesses, community organizations, school districts, party planners, and individuals depend on across Travis, Cook, and Hays counties. Our delivery area includes the 78610, 78613, 78617, 78641, 78652, 78653, 78660, 78664, 78681, 78701, 78702, 78703, 78704, 78705, 78712, 78717, 78719, 78721, 78722, 78723, 78724, 78725, 78726, 78727, 78728, 78729, 78730, 78731, 78732, 78733, 78734, 78735, 78736, 78737, 78738, 78739, 78741, 78742, 78744, 78745, 78746, 78747, 78748, 78749, 78750, 78751, 78752, 78753, 78754, 78756, 78757, 78758, and 78759 zip codes. We're happy to offer our service to surrounding communities, including Round Rock, Hutto, Georgetown, Pflugerville, Cedar Park, Leander, Liberty Hill, Killeen, and other neighboring cities. Get in touch with our team to see if delivery arrangements can be made for your upcoming event if your city or zip code isn't listed. We can typically make special accommodations for most of Illinois.

The best part of our job is working with our customers to create unforgettable memories and provide endless hours of fun for every occasion. We regularly work with small business owners, local clubs and charities, daycare facilities, event coordinators, and the Chicago Independent School District to provide reliable and reasonably-priced options for party rentals and an Chicago mechanical bull rental.
We value the work that goes into hosting fun-filled and festive events throughout the year, and we strive to make the event planning process as cohesive and enjoyable as possible so that our customers can enjoy their parties just as much as their guests will. Contact our staff or look at our equipment online for more details on hosting large-scale events like festivals, fairs, rodeos, carnivals, or field days.

Take the party outside and host your upcoming event at one of our beautiful and spacious parks, like Emma Long Metropolitan Park, Walnut Creek Metropolitan Park, or Mueller Lake Park. Be sure to include a generator, tables, tents, chairs, and all of the other party essentials in your rental so that you have everything you need to host a well-attended and exciting outdoor event. Parks are typically first come, first served, so check out the local park's website or contact the Chicago Parks and Recreation Department for more information. You no longer have to spend hours searching for the best mechanical bull rental near me Chicago IL has to offer. The team at Saga Events is here to help get the party started.
Where Can I Rent a Mechanical Bull in Chicago IL and Other FAQs
If you've been wondering where can I rent a mechanical bull in Chicago IL, we're here to help you book one of our rides with confidence by answering any lingering questions. For more information, take a look at the list of frequently asked questions below and contact our staff.
Q.
What ages can use the mechanical bull?
A.
We carry two bull options that are safe for a variety of ages. Ages six and up can enjoy our American mechanical bull, while we recommend ages 10 and up enjoy our larger Rodeo mechanical bull, both with appropriate adult supervision.
Q.
Are your mechanical rides safe?

A.
Our Chicago IL mechanical bull rentals are completely safe and are adored by kiddos as well as adults! Our American Bull is safe for ages six and up while our Rodeo-themed rental is recommended for ages 10 and up. Each bull features an inflatable landing pad for safe and easy falling, as well as raised inflatable sides so that no one is bucked over the edges. We always recommend adult supervision when the little ones are partaking in our mechanical rides, which can be controlled to stay at a safe and enjoyable speed. We partner with industry-leading manufacturers to provide commercial-grade rentals that are as safe as they are exciting!
Q.
Do we have to have a power source to use the bull?
A.
Yes, our rides require two 110 household plugs. If you're wondering where can I rent a mechanical bull in Chicago IL for an outdoor event without access to electricity, we've got you covered! We carry generators that are available for rent and can be set up in outdoor spaces or for larger community-wide events.
Mechanical Bull Near Me Chicago IL Customers Give 5-Stars!
If you're on the hunt for the best mechanical bull near me Chicago IL has to offer, you've come to the right place! Our team is thrilled to play such an important role in helping our customers celebrate special occasions and have endless amounts of fun. Whether you're putting together an employee appreciation day to let your workers know how valued they are or want to add weekly excitement at your bar's happy hour, we're confident our high-quality selections and reliable services will help you throw a party with peace of mind.

You don't have to waste time searching for the top mechanical bull rental near Chicago IL with the high-quality and competitively-priced options from our locally owned and operated team. Check out what our previous clients have to say about their 5-star experiences with Saga Events, and reserve your party rentals online with a few easy clicks!