10x15 Pop Up Tent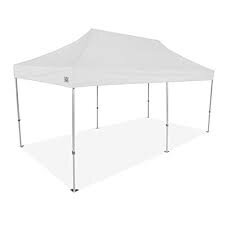 Setup Area: Height: 9' Width: 10' Length: 20'
Actual Size: Height: 9' Width: 10' Length: 20'
Description
10x15 Pop Up Tent Rental
Looking for a reliable and convenient solution for your outdoor events in Dallas, TX? Our 10x15 Pop Up Tent Rental is the perfect choice. This versatile tent is designed to provide shelter and protection from the elements, ensuring your guests stay comfortable and dry.
With a spacious 10x15 footprint, this pop-up tent offers ample space for various activities, whether it's a backyard party, corporate event, trade show, or even a wedding reception. The sturdy frame and durable fabric make it suitable for both indoor and outdoor use, guaranteeing a long-lasting and reliable shelter.
Setting up the tent is a breeze, thanks to its user-friendly design and easy-to-follow instructions. Within minutes, you can have a fully functional and stylish tent that adds a touch of elegance to any event. The tent's sleek and modern appearance will complement any theme or decor, allowing you to create a visually appealing and inviting atmosphere for your guests.
In addition to its aesthetic appeal, our 10x15 Pop Up Tent Rental offers exceptional functionality. The tent features adjustable height settings, allowing you to customize the space according to your specific needs. Whether you need extra headroom for tall guests or want to create a cozy and intimate setting, this tent can adapt to your requirements effortlessly.
Safety is always a top priority, and our pop-up tent is designed with that in mind. The tent is equipped with sturdy legs and secure fasteners, ensuring stability even in windy conditions. Additionally, the fabric is fire-resistant, providing peace of mind for you and your guests.
Renting our 10x15 Pop Up Tent is a cost-effective solution for your event needs. Instead of purchasing a tent that you may only use occasionally, renting allows you to save money while still enjoying the benefits of a high-quality and professional-grade shelter.
So, whether you're hosting a small gathering or a large-scale event in Dallas, TX, our 10x15 Pop Up Tent Rental is the perfect choice. Contact us today to reserve your tent and make your outdoor event a memorable and comfortable experience for all.