Ennis Party Rentals and Events
Show Primary and Secondary Categories
Party Rentals in Ennis Texas
Welcome to Saga Events, the number one rental company in Ennis for all of your inflatable rental requirements! We specialize in offering a wide selection of water slides, inflatables, and bounce houses that will transform any event into a treasured memory full with joy, excitement, and limitless fun. We have the ideal inflatables to make your event a smashing success, whether you're organizing a birthday party, corporate event, school carnival, or neighborhood block party.

We offer an unparalleled variety of water slides, inflatables, and bounce houses that you won't find anywhere else.

Our Water Slides
Allow me to introduce you to the exciting realm of water slides available through Saga Events. We take immense pleasure in offering an extraordinary range of water slides that are sure to create a memorable experience for your event in Ennis.

• We provide Thrilling Adventure for all ages;

Welcome to our extraordinary collection of water slides! We've carefully curated an assortment that caters to diverse age groups and individual preferences, guaranteeing an exhilarating experience for everyone. From kids to adults, our slides are designed to deliver thrills as you slide down into refreshing pools of water. Whether you're planning a backyard party, a community event, or a corporate gathering, our water slides are here to create unforgettable memories that will be talked about for years to come.

Saga Events offers a diverse selection of water slides tailored to fit any event space and accommodate participants of all skill levels. We have options ranging from towering slides that take you to dizzying heights to slides with thrilling twists and turns, adding an extra dose of excitement to the experience. Rest assured, our collection is designed to deliver an adrenaline rush that will keep everyone coming back for more.

• Safety First, Fun Always

At Saga Events, safety is our utmost priority. We recognize the significance of creating a secure environment where participants can fully relish their water slide adventures. That's why we go the extra mile to construct our water slides with safety in mind. Each slide is equipped with features like safety nets, sturdy handrails, and non-slip surfaces, specifically designed to minimize the risk of accidents and ensure peace of mind throughout the experience.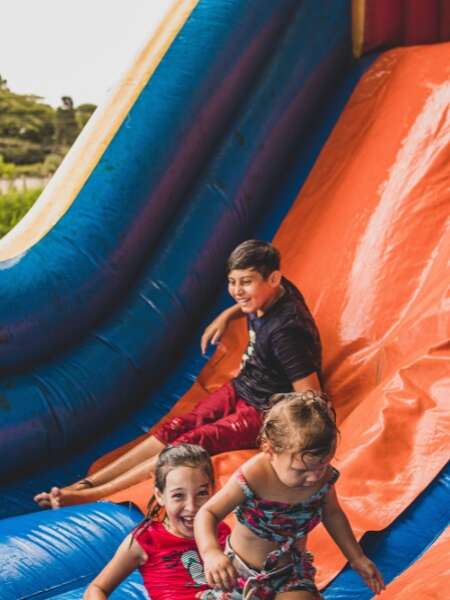 To further ensure safety, our team of trained professionals takes charge of setting up each water slide. They meticulously anchor them securely and ensure compliance with all safety standards. We'll guide you through the necessary precautions, including water depth requirements, participant guidelines, and supervision recommendations. Our goal is to guarantee a safe and enjoyable experience for everyone involved.

• Beautiful and Unique Designs

We firmly believe that the visual appeal of our water slides should match the excitement they bring. That's why we take pride in offering a wide range of captivating designs and themes that add an extra layer of enjoyment to your event. From vibrant tropical motifs to playful aquatic adventures, our water slides not only provide thrilling experiences but also create an immersive atmosphere that ignites the imagination of your guests.

We pay attention to every detail, including the aesthetics of our water slides. Using high-quality materials and vibrant colors, we ensure that our slides are visually appealing and enhance the overall look of your event.

Whether you're seeking a slide that seamlessly blends with a specific theme or one that becomes the focal point of your gathering, our selection has something to suit every event style and vision.

Get ready to amaze your guests with visually stunning water slides that elevate the excitement of your event to a whole new level.

• Convenience & Reliability

We understand that planning an event can be quite demanding, and that's why we're committed to making the rental process as convenient and stress-free as possible. Our goal is to provide you with a seamless experience from start to finish.

To begin with, we offer flexible rental periods to accommodate the specific duration of your event. Whether you're hosting a single-day celebration or a weekend extravaganza, we've got you covered. Our dedicated team will work closely with you to arrange the delivery and setup of the equipment at your preferred location. You can rest assured that everything will be in place and ready to go before your guests arrive, allowing you to focus on other aspects of your event.

We also understand that unexpected situations can occur, and that's why we're committed to delivering excellent customer support throughout your rental experience. If you have any questions or require assistance at any point, our friendly team is just a phone call away. We're always ready to promptly and professionally address any concerns you may have.

Our aim is to make your event planning journey as smooth and hassle-free as possible, ensuring that you can enjoy your event to the fullest.

When it comes to renting water slides in Ennis, look no further than Saga Events. We pride ourselves on being your trusted partner in delivering unforgettable aquatic adventures. With thrilling rides, top-notch safety measures, and exceptional customer service, we are dedicated to providing an experience that will surpass your expectations.

Take a moment to explore our extensive selection of water slides today. We have a wide range of options to suit your preferences and event requirements. Whether you're planning a summer party, a company picnic, or a backyard barbecue, our water slides will add a touch of excitement and create a water wonderland that your guests will love.

Our water slides come in various sizes, heights, and designs, featuring thrilling twists and turns that will keep participants entertained for hours on end. We prioritize safety, ensuring that all necessary precautions are in place to provide a worry-free experience for everyone.

To get started, reach out to our friendly team. We're here to assist you in discussing your specific requirements, providing a personalized quote, and reserving the perfect water slide for your upcoming event. Get ready to make a splash and embark on an unforgettable water slide adventure with Saga Events. Let's create memories that will be the talk of the town!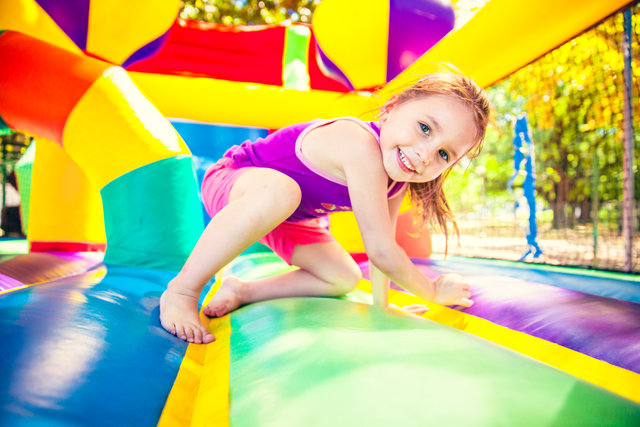 Other Event Services
In addition to our fantastic water slides, we also offer an extensive selection of inflatables and bounce houses that bring an extra level of excitement to any event. Whether you're planning a birthday party, a family reunion, or a community gathering, our inflatables are sure to keep everyone entertained.

For our younger guests, our bounce houses are the perfect choice. Available in a variety of themes and sizes, they provide a safe and enjoyable environment for children to jump, play, and let their imagination run wild. It's a guaranteed way to keep the little ones engaged and delighted throughout the event.
With our wide range of inflatables and bounce houses, the possibilities for entertainment are endless. Contact our friendly team to explore the options, discuss your event requirements, and reserve the inflatables that will take your gathering to new heights of fun and enjoyment.
Unique Quality and Durability
We believe in delivering not only a fun-filled experience but also a safe one. With Saga Events, you can have full confidence in the quality and safety of our equipment. Let us take care of the details, so you can fully enjoy your event with peace of mind.

At Saga Events, we are dedicated to providing you with top-notch quality and reliability. That's why we hold ourselves to the highest standards when it comes to our water slides, inflatables, and bounce houses. We carefully select materials that prioritize durability, strength, and longevity, so you can enjoy a premium experience.

Our partnership with reputable manufacturers who share our commitment to excellence ensures that every rental item is crafted with meticulous attention to detail. We source inflatables made from commercial-grade vinyl, a robust material that not only withstands the test of time but is also easy to clean and maintain. The reinforced stitching and double-stitched seams further enhance the durability of each inflatable, allowing them to handle rigorous use while providing a safe environment for all participants.

We believe in going the extra mile to exceed your expectations. By prioritizing quality materials and partnering with trusted manufacturers, we guarantee that every water slide, inflatable, and bounce house you rent from us meets and surpasses industry standards. Experience the difference in our premium offerings and enjoy peace of mind knowing that we've carefully chosen items that are built to last.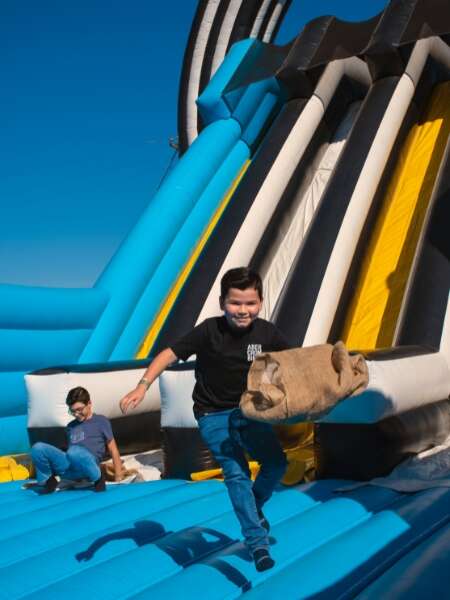 Professional and Reliable Service
At Saga Events, we strive to provide exceptional customer service from the moment you contact us until the conclusion of your event. Our friendly and knowledgeable team is dedicated to assisting you in choosing the perfect water slide, inflatable, or bounce house that suits your specific requirements.

We understand that planning an event can be overwhelming, which is why we offer professional guidance and support throughout the rental process. Our team will work closely with you to understand your event goals, recommend suitable rentals, and ensure that everything is delivered and set up according to your schedule. We pride ourselves on our punctuality and attention to detail, so you can focus on enjoying your event while we take care of the rest.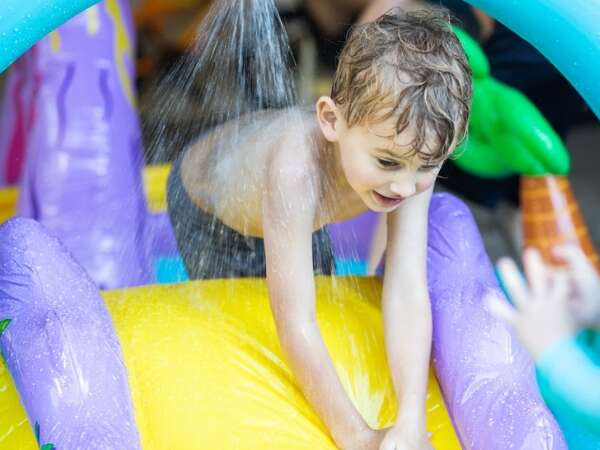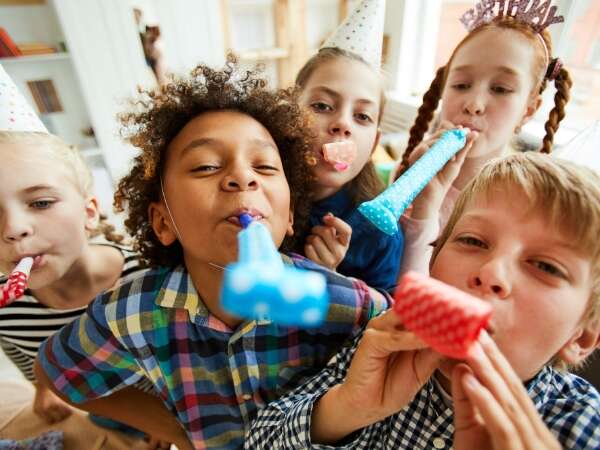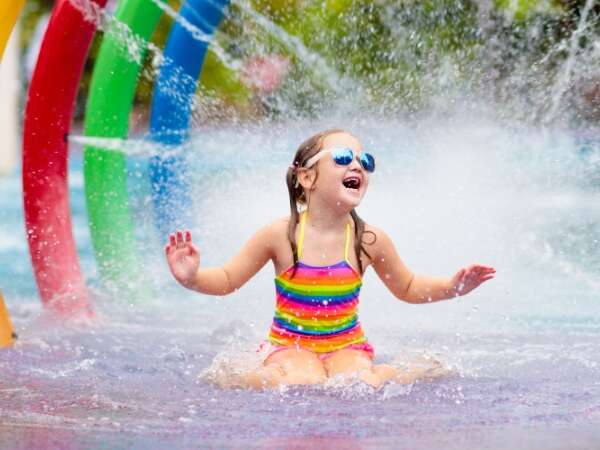 Flexible and Affordable Pricing
At Saga Events, we offer affordable and flexible pricing options for all our rental services. We prioritize budget considerations without compromising on quality. We also provide tailored pricing packages for events of all sizes, working closely with our customers to understand their needs and create a package that offers maximum value. We offer flexible rental periods, allowing our customers to rent items for a few hours, a day, or a weekend. We also ensure affordability without compromising on safety, durability, or excitement by sourcing rentals from trusted manufacturers. We value transparency and provide detailed quotes without hidden costs. Customer satisfaction is always our top priority, and we offer exceptional customer service throughout the rental process.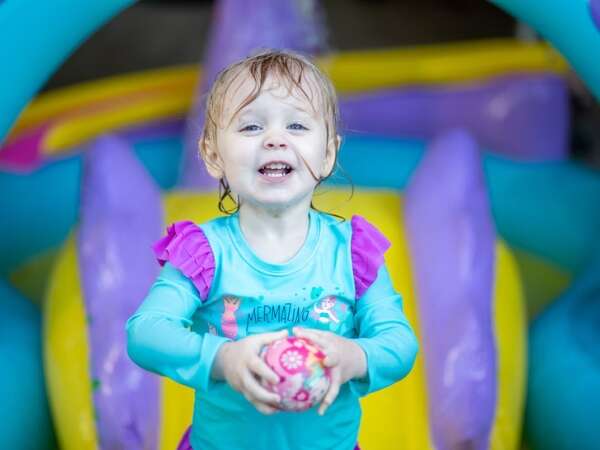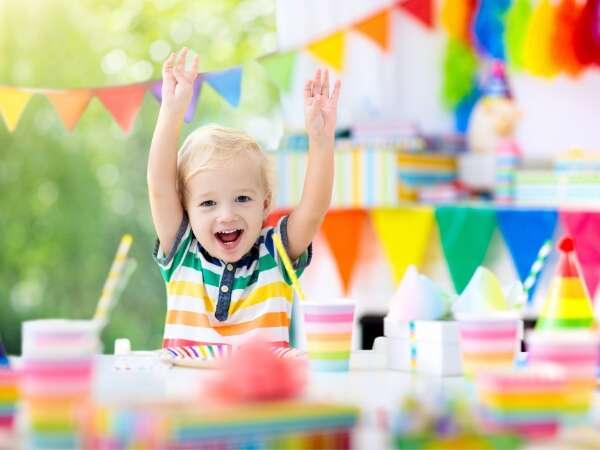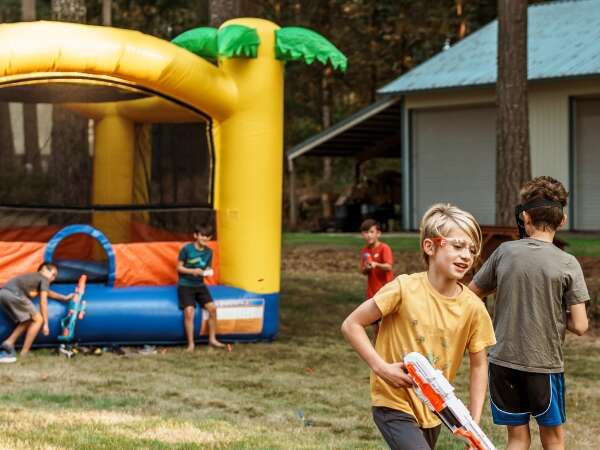 Make a booking today!
At Saga Events, we understand that budget constraints shouldn't stand in the way of creating an extraordinary event. That's why we're here to help you turn your dreams into reality with our flexible and affordable pricing options. We believe that everyone deserves to experience thrilling and unforgettable moments, regardless of their budget.

Our dedicated team is ready to assist you in planning an occasion that will leave a lasting impression without breaking the bank. We'll work closely with you to understand your event needs and tailor a package that fits your budget while still providing exhilarating experiences and cherished memories for you and your guests.

Don't hesitate to reach out to our friendly team today. We're eager to discuss your event requirements, provide you with a personalized quote, and help you secure the perfect water slides, inflatables, and bounce houses for your upcoming event in Ennis. Get ready to make a splash and create memories that will be treasured for years to come, all within your budget.

For your convenience, our delivery area covers a wide range of zip codes, including 75119, 75152, 75165.

Our Service & Delivery Area
We are your #1 Choice For Inflatables for Rent & Party Rentals In Ennis Texas! We proudly serve from our warehouse in Waxahachie Texas and offer party rentals in the following areas:
Waxahachie
Ennis
Seagoville
Hutchins
Red Oak
Midlothian
Cedar Hill
Kauffman
Wilmer
Ferris
Palmer
Scurry
Rosser
Pecan Hill
Ike
Reagor Springs
Alma
Combine
Sand Branch
Bristol
Crisp
Rockett
Crandall
We're proud to deliver the best options for party rentals in Ennis Texas. Businesses, party planners, wedding coordinators, office managers, community organizations, and individuals in Ellis County and surrounding zip codes rely on our party rental services.
Our delivery area covers a wide range of zip codes, including 75101, 75102, 75103, 75104, 75105, 75106, 75107, 75109, 75110, 75114, 75115, 75116, 75119, 75120, 75123, 75124, 75125, 75126, 75132, 75134, 75135, 75137, 75138, 75141, 75142, 75146, 75152, 75154, 75157, 75158, 75159, 75160, 75161, 75164, 75165, 75167, 75168, 75172, 75180, 75181, 75182, 75185, 75187, 75201, 75202, 75203, 75204, 75205, 75206, 75207, 75208, 75209, 75210, 75211, 75212, 75214, 75215, 75216, 75217, 75218, 75219, 75220, 75221, 75222, 75223, 75224, 75225, 75226, 75227, 75228, 75229, 75230, 75231, 75232, 75233, 75234, 75235, 75236, 75237, 75238, 75240, 75241, 75242, 75243, 75244, 75246, 75247, 75248, 75249, 75250, 75251, 75252, 75253, 75254, 75260, 75261, 75262, 75263, 75264, 75265, 75266, 75267, 75270, 75275, 75277, 75283, 75284, 75285, 75287, 75301, 75303, 75312, 75313, 75315, 75320, 75326, 75336, 75339, 75342, 75354, 75355, 75356, 75357, 75358, 75359, 75360, 75367, 75368, 75370, 75371, 75372, 75373, 75374, 75376, 75378, 75379, 75380, 75381, 75382, 75389, 75390, 75391, 75392, 75393, 75394, 75395, 75397, 75398, 76623, 76626, 76636, 76651, 76670, 76671, 76678, 76691, 76041, 76064, 76065, 76084, 76099, 76140, 76244, 76247, 76248, 76262, 76299, 76307, and 76308.